We have a new customer who wanted to customize one of our dedicated servers for use as a router. The Atom boards we use for dedicated servers have an on-board USB port, but it faces up towards the top of the case, severely limiting the size of the USB flash drive you can plug in to it within a 1U chassis. After some searching we were able to find a 4GB flash drive that fit in the space available (after freeing it from its outer case) and installed Vyatta on it.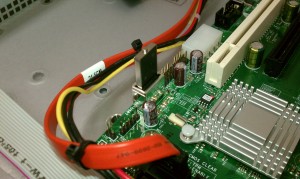 Since it's booting off of the flash drive plugged into the internal USB port we also removed the hard drive from the case. It does not touch the top of the case with the cover installed and there's enough clearance to account for cover flex.
UPDATE: This worked out quite well so we've decided to add it as an option.