We've added a shelf for a recent Mac Mini colo in one of our racks, leaving extra space for others. Colocation for a Mac Mini is only $49 per month ($99 setup) which includes everything you'll need:
Remote reboot outlet
3 Mbps Committed Rate Bandwidth
IPv4 /29 subnet (IPv6 subnet optional)
Private VLAN with port statistics
This is a perfect Mac colocation package for personal, hobbyist, and small businesses.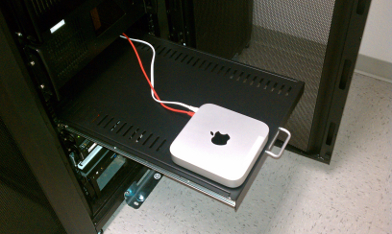 This post is from Sep 30th, 2010, but we decided to bump it back to the top. Updated December 5, 2011.