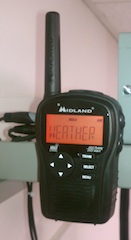 One of our "for fun" projects we recently completed was to add online streaming audio for the two NOAA Weather Radio stations we are able to receive. By utilizing a pair of handheld Midland weather radios tuned to stations WXK58 and WWG20 feeding to our web servers, we are able to offer these live streams on our website. Additionally, we are sending these audio feeds to Weather Underground. These stations also cover some of our nearby neighbors to the west in California.
You can find to these streams online at: http://rollernet.us/wxradio
Whether you're a local listener or just curious, feel free to listen in.