UPDATE 2: Officially canceled as of April 10, 2017. See announcement: Advanced Business Broadband – Project Canceled
UPDATE:  As of January 2017 work on this new service has been suspended until further notice. The license holder of the band we needed to lease from may no longer be issuing leases at this time. Rollernet was supposed to obtain spectrum leases in December 2016 to compliment our equipment purchase, but the license holder has not followed through with a lease agreement as of January 17th. Unfortunately without a spectrum lease we can't operate equipment and we must regretfully suspend work.
---
We recently finalized plans to start work on a new service we're calling "Advanced Business Broadband". This service will fill the middle gap in our business internet options which are currently offered as "basic" or "dedicated internet access".
Advanced Business Broadband will be available with the following tiers: 20×20, 50×50, 100×100, 150×150, and 200×200. Pricing is expected to be between $400 and $800 per month. Like dedicated internet access this is a licensed service that enjoys the same protections, low latency, high speed, and true symmetric bandwidth with a service level agreement. Advanced business broadband also comes with all the benefits of local content from peers on TahoeIX plus new peers like Hurricane Electric which will continue to enhance our customer's connectivity to the world beyond what other ISPs in Reno/Sparks that don't peer at TahoeIX are able to offer.
This will also help companies that want to colocate equipment solve the "last mile" problem: a quality connection is needed to take advantage of the protections that local colocation offers to their business servers, but don't want to (or can't) pay the high prices other providers want to charge for a connection back to our facility.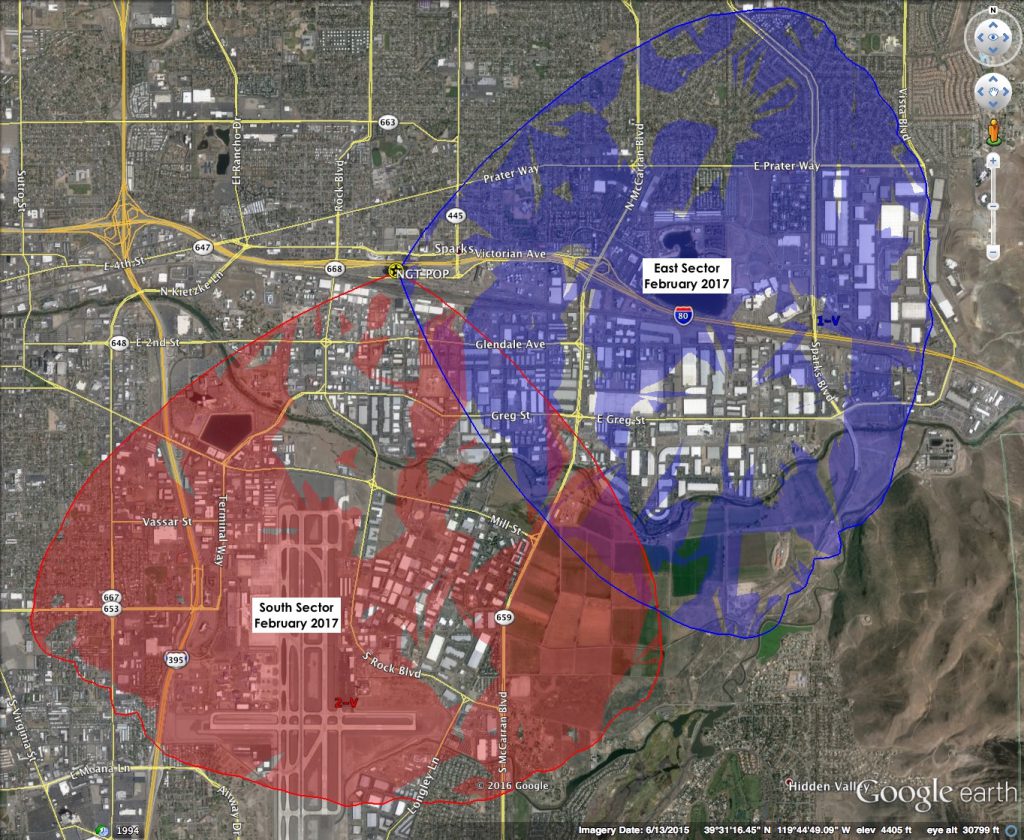 Our planned coverage area consists of the majority of the commercial and industrial areas in Reno and Sparks along the Truckee River and I-80 corridor and east of US-395. Right now we're targeting February 2017 for early deployments, which if equipment arrives in January will allow us to do burn in and development testing for 30 days before releasing it to the early adopters. These timeframes are tentative: actual dates will depend on when we start receiving equipment.
As things progress we'll post updates to our Twitter account @RollernetNV so follow us for the latest news. If you're interested in being an early adopter send an email to sales@rollernet.us to register your interest. We're planning on offering some discounts and incentives for early adopters.
Disclaimer: Advanced business broadband is still in the development stages. We may need to tweak plans, pricing, SLAs, or coverage once we actually have equipment in hand.